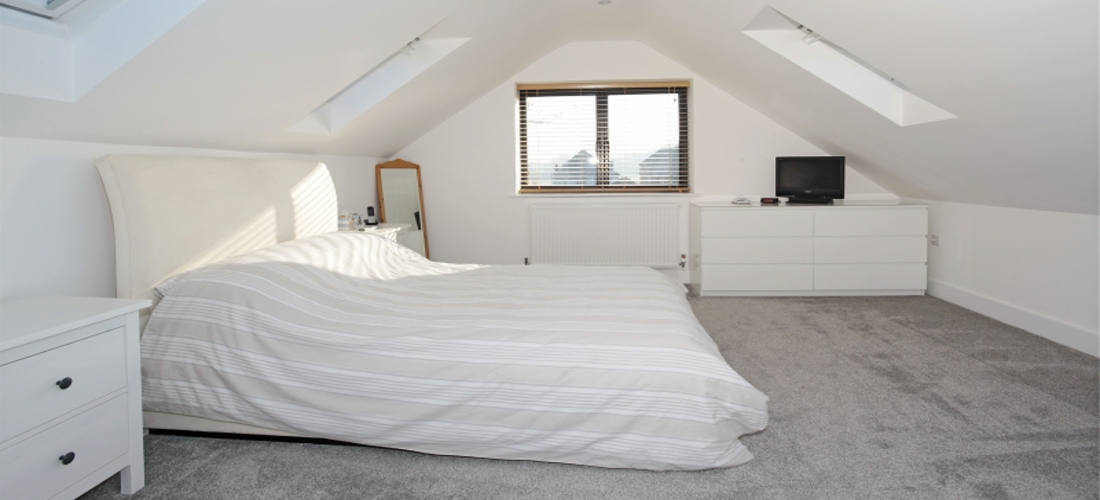 Converting unused loft space is one of the easiest and most affordable options for extending your home. Whether you need the extra space for a new bedroom, office setup or self-contained living area, building upwards is frequently the most effective solution.
Loft conversions often have their own unique challenges however, depending on the requirements of each individual project. For a room that you can enjoy for years to come, it's important that you choose a competent building firm, with the proper skills and knowledge to complete the job professionally.
Builders West Sussex have extensive experience creating beautiful loft conversions, working on homes across Sussex to transform neglected attics into a valuable and inviting room for the whole family.
Loft Conversion Services
We know that every family needs something a little bit different, to meet the unique needs of their home. While most of our customers ask us to handle the entire loft conversion from start to finish, we're just as happy to complete all the technical structural work to a high quality, for keen DIY-ers to step in to finish the job. Our process is about communicating with every customer to deliver a project exactly as they imagine.
The first step is a no-obligation consultation appointment, where we listen to what you are looking for, and make some suggestions about design possibilities. If you are happy with our suggestions then we'll get to work creating a plan for your loft conversion, and schedule a time that suits you.
A full conversion service includes:
– Feasibility Survey
– Architectural plans
– Structural support for roof and timbers
– Building and insulating internal walls and floors
– Tank repositioning (if required)
– Velux window installation
– Adding flat or pitched-roof dormers
– Electrics and plumbing
– Stair installation
– Plastering
– Doors, skirting and finishing touches
You may already have technical plans for your loft conversion, or wish to use your own designer. If this is the case, we can provide a cost estimate for completing the work and once you are satisfied with our quote, begin working on the required elements.
Alternatively, our team can make the necessary structural alterations, such as roof timber openings, installing windows and stairs, and making everything watertight, for you to complete the next stages yourself. Our level of service can be entirely tailored to your requirements.
Frequently Asked Questions
Q: Is my loft suitable for conversion?
The vast majority of lofts are suitable for conversion to provide you with extra habitable space in your home, though some building projects may be more complex than others. Building Regulations require that a loft conversion has a minimum ceiling height of 2.2 metres, as measured from the floor to the top of the ceiling joists. A low ceiling will require additional work such as raising the roof, lowering the ceiling in the rooms below or using thinner insulation. Whatever the issue may be, Builders West Sussex have years of experience of all types of loft conversions and are well placed to find a solution to potential problems.
Q: Will I need planning permission to convert my loft?
Most residential loft conversions fall under 'permitted development', meaning no planning permission is required. However, it is always recommended that you check with your local planning authority and obtain their written confirmation before you go ahead with any building works. If your property is located with a Conservation Area or is a listed building, or you are wanting to convert the loft of a leasehold property, permitted development rights do not apply. At Builders West Sussex, we can help with professional advice and assistance to enable you to obtain whatever necessary consents you need.
Q: Does a loft conversion add value to my property?
It is generally recognised that a loft conversion is one of the most effective home improvements you can make that adds real value to your home. A well designed and executed loft conversion can increase the property value by 20% or more. Many homeowners take the wise decision to 'move up, not move out', realising that it is far cheaper and more cost-effective to convert unused attic space in your home than selling up and moving to a larger property.
Q: How long with it take to convert my loft?
Every loft is different, and every homeowner has their own requirements. Most of our customers prefer Builders West Sussex to take on the entire project, but some only need us to carry out the technical, structural work and are happy to finish the job themselves – we can do as little or as much as you require. The timescale for completion of a full loft conversion depends on the complexity of the project. As a rule of thumb, a straightforward Velux or dormer conversion will take in the region of 6-8 weeks, while more involved hip-to-gable or mansard constructions, and particularly where planning permission is needed, can take much longer.
Q: What next steps should I take to get my loft conversion started?
If you are considering a loft conversion for your home in Burgess Hill, Haywards Heath or anywhere in West Sussex, please get in touch with Builders West Sussex to discuss your plans with us. We can be reached on 01273 841707 or 07775 832518 or you can send an enquiry via the Contact Form. We will arrange to come out to your home to assess your loft, consider your requirements and provide you with a free summary quotation within a few days, with information on next steps if you want to proceed.
Where We Work
With over 40 years of experience, our portfolio includes loft conversions in properties all across Sussex; from Chichester to Hastings. We've worked extensively in the Haywards Heath and Burgess Hill area, and in homes throughout the South Downs, including Fulking, Hurstpierpoint, Ditchling and Plumpton. For more details, see the areas we cover, or contact us today.

Nick Swann
,
"Builders West Sussex provides a service which combines pro-active, positive construction services at the highest level of quality with a keen understanding of their Client's requirements and a superlative professional management structure. The result is a construction company of supreme capability and first-class performance."

Anne Latham
,
"Builders West Sussex are a fantastic company to work with. Always on time and on budget with my projects, every person I have dealt with has been knowledgeable, highly skilled, and great to work with. They always ring back, they keep me informed, they check that I'm happy, and they come up with great ideas. They are by far the best building company that I have ever dealt with."

Maree Lawless
,
"I wanted to say a big thank you and sing the praises of your team. They have been very helpful and a breath of fresh air in the process! Since your team have arrived on site this has changed! Special thank you must go to Nick who has been exceptional and very professional. Thank you again! "